November is proving to be a red-hot month for NFTs, with eye-popping sales numbers and record-breaking trading activity. Blockchain analytics firm Nansen recently released data that showcases the remarkable surge in NFT sales volume, leaving crypto enthusiasts buzzing with excitement. In this blog post, we'll dive into the details of this NFT phenomenon, explore the top players in the NFT market, and shed light on the surprising growth amid seemingly challenging times.
TL;DR:
November NFT sales hit an impressive $129 million.
Weekly Ether sales soared from $56 million to $129 million.
Leading NFT marketplace: Blur, with a $305 million trading volume.
Bored Ape Yacht Club (BAYC) dominated collections with $66.7 million in trades.
CryptoPunks remained top in market cap, though trading volume was $11 million.
NFT market welcomed a 12% increase in traders, with six million wallet holders.
NFT sales surged despite challenges, including layoffs at OpenSea.

NFTs Reach New Heights in November
Nansen's data paints a compelling picture of the NFT market's bullish momentum. In the week ending November 6th, NFT sales volumes skyrocketed to a staggering 68,342 ETH (Ethereum), equivalent to over $129 million in value. This remarkable surge follows a steady climb, with weekly sales volume at 29,704 ETH, valued at approximately $56 million, just a few weeks prior. It's a testament to the ever-expanding appeal of NFTs in the digital realm.
Top NFT Marketplace: Blur Leads the Pack
In the fast-paced world of NFTs, competition is fierce among marketplaces. According to data aggregator NFTGo, Blur emerged as the frontrunner, boasting a jaw-dropping trading volume of 161,433 ETH, roughly translating to a staggering $305 million, in the previous 30 days. Hot on its heels, OpenSea claimed the second spot with 52,307 ETH in trading volume, totaling around $100 million.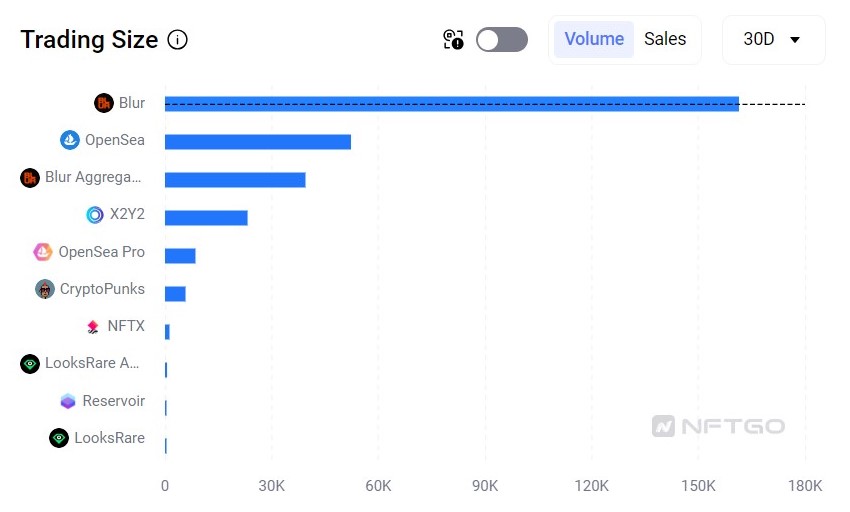 NFT Collections Making Waves
NFT collections are the lifeblood of this vibrant ecosystem, and some are making waves like never before. The Bored Ape Yacht Club (BAYC) stands tall with the highest trading volume in the last 30 days, clocking in at 35,226 ETH, or approximately $66.7 million. Following closely, the Mutant Ape Yacht Club (MAYC) secured the second position with 14,947 ETH, while The Captainz made waves with 9,948 ETH in trading volume.
Related: NFTpay Set to Revolutionize Web3: Fast, Easy, Free!
CryptoPunks: Market Capitalization Reigns Supreme
While other collections may dominate in trading volume, the iconic CryptoPunks maintain their status as the kings of market capitalization. However, it's worth noting that their trading volume in the last 30 days stood at 5,773 ETH, indicating that their allure remains strong, even in the face of formidable competitors.
Rising NFT Traders and Wallet Holders
The NFT ecosystem is growing, with NFTGo reporting a 12% increase in NFT traders in the last seven days. The numbers tell an exciting story: 22,804 buyers and 27,308 sellers actively participating in the market. Meanwhile, the number of wallets holding NFTs hovers around a significant six million, underlining the widespread adoption of these digital collectibles.
Related: Experts Sound Alarm on Impending $3 Trillion Crypto Surge
Surging NFT Sales Amidst Challenges
It's important to note that this surge in NFT trading activity comes at a time when NFT marketplace OpenSea made headlines for laying off half of its staff in preparation for the launch of its second version. Despite challenges, the NFT market marches forward, driven by innovation and an ever-growing community of enthusiasts.
Conclusion:
November has ushered in a thrilling era for NFTs, with sales volumes reaching unprecedented heights and NFT marketplaces bustling with activity. The surge in trading activity, the rise of dominant collections, and the increasing number of NFT traders all point to a dynamic and resilient NFT ecosystem. As the world of NFTs continues to evolve, it's clear that these digital assets have firmly established themselves as a force to be reckoned with in the realm of digital collectibles and blockchain technology. Stay tuned for more exciting developments in this ever-expanding universe of NFTs.

Source: CoinTelegraph
Read Also: Is Crypto Winter Finally Over?